Presidential shout out shines light on UT space program | News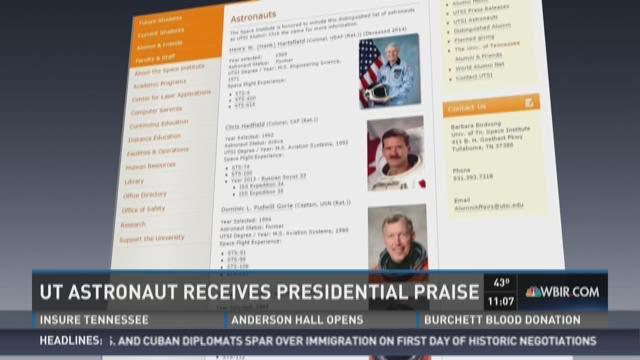 (WBIR-University of Tennessee) Captain Scott Kelly is planning to go up to space in March for a year-long mission inside the International Space Station. Certainly, that is a long way home, from where he received part of his education at the University of Tennessee's Space Institute in Tullahoma.
"It's been a pretty good week to have somebody commander with the space station being replaced by another UT grad," said Dr. Matthew Mench with the College of Engineering. UTSI is under the engineering umbrella.
On Tuesday, during the State of the Union, President Obama gave a shout out to the native Texan, sitting one row behind First Lady Michelle Obama and Dr. Jill Biden. The president gave Kelly an order: to take as many photos as possible and post them on Instagram.
"He's an astronaut and on the cover of Time magazine -- so I expect big things," Dr. Mench added.
Currently Captain Barry "Butch" Wilmore, a Tennessee native, and another graduate of the UT Space Institute, serves as the commander of the International Space Station. In early March, he'll head back down to Earth. Kelly will take off two weeks later.
"A lot of people didn't realize that we have nine astronauts -- and these are the latest two."
MORE: East Tenn. family watches relative off to Space Station
Dating back to the 'Space Race' in the 1960's, the world has watched a number Volunteers up in space on various missions.
Now to see one of their own, with such a high profile and with a daunting mission ahead, is one the school is proud of.
"We have nearly 18 months of continuous UT graduates in space," Dr. Mench said.