Campus ministry is a beacon to UT students | News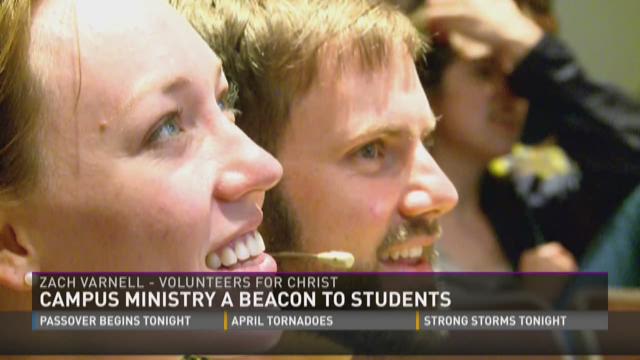 With NBC's "A.D. The Bible Continues" premiering on Easter Sunday, we're taking a closer look at Christianity in East Tennessee.
These days most of the younger generation are known more for selfies than spirituality, but there's one group on the UT campus that is grounded in their faith.
One night a week, a classroom becomes a sanctuary for Volunteers for Christ, a campus ministry of Cornerstone Church of Knoxville.
Zach Varnell, 28, leads the worship.
"Our goal as a ministry is to reach as many people as possible with the Gospel of Jesus Christ and you know, teach them amd encourage community fellowship relationships things like that," said Varnell.
The tech-savvy students text and tweet to promote their events, which include Bible studies in dorms and rides to church on Sunday.
"Relationships are our greatest asset and I think students, once they get plugged in, and become part of relationships and have good, healthy friendships, that's what really gets them to the church," said Varnell.
Students Ben and Madison Curtis have been married for just over a year. This young couple shares a youthful excitement about serving the Lord.
"I think our youth provides a unique energy and enthusiasm that is really refreshing and encouraging to the people in our church community," said Madison.
"We are in a secular campus so it's difficult. Being in classes and stuff but I think there are influences outside of this campus life, too. So, it's difficult but having VFC is particularly helpful for us being able to have a community that loves Jesus that loves the gospel living life together," said Ben.
Brett Lewis agrees. The second year graduate student has seen first hand how the support can help with a heavy academic work load.
"People struggle when they're on their own, without like a support group you're not going to do well probably in your soul and so I think it's really important to have a group of people who are in similar areas that can help spur each other on," said Lewis.
They're creating a support system, while staying true to their mission.
"We want to see students more in love with Jesus. Any way we can do that. That's our goal," said Varnell.
For more stories like this, visit our AD page.
To learn more about the Volunteers For Christ Ministry visit: www.cornerstonechurchofknoxville.com/ministries