Knox County plans to sell Andrew Johnson Building in writing | News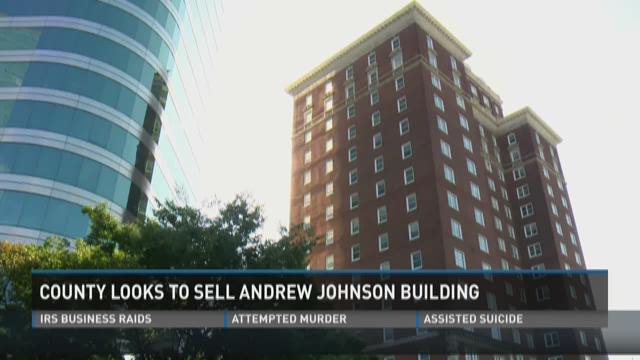 (WBIR) - Knox County officials are working together to bring life back to the south end of Gay Street. It begins with the redevelopment of the historic Andrew Johnson Building.
Mayor Tim Burchett announced Monday he will be working with Dr. Jim McIntyre to relocate the school board in order to sell the building. The school administration is headquartered there, along with some other public offices.
MORE: Knox leaders reach agreement on teacher raises, 2 schools
"You take state, local, and federal government-- we own over half the real estate in downtown Knoxville. When is enough enough? I'd like to see it go back the other way," Burchett said Tuesday.
The plans are something the county has been looking into for quite some time. In fact, just last month the county purchasing department issued a request for information to see who may be interested in purchasing the old hotel.
MORE:
Knox County looks to sell Andrew Johnson Building
It's a big piece of Knoxville's history. It was built in 1928 and was originally known at the Andrew Johnson Hotel.
"It was the tallest building in downtown Knoxville from 1928 until 1978," said Kim Trent of Knox Heritage.
It was the place to stay in a booming city.
"It was a place that anyone who was anyone stayed at when they came to Knoxville," Trent said.
Nearly nine decades later, it is being used as just office space.
"After 5:00, there is nothing happening in that building - and that became the fate of that end of Gay Street," Trent said.
Burchett is hoping to transform the Andrew Johnson Building into something that would generate money for the county.
"I've often said that government is a poor steward of our property and our resources. I'd rather public entities own it, and it will get back on the tax rolls," he said.
But in order to do so, that requires relocating the Knox County Board of Education and other system operations.
"We're very confident that we can work with the county to identify some potential properties and a new headquarters for us," said Dr. Jim McIntyre at a press conference Monday.
A recent memorandum shows it is something the county will do. It's just a matter of when.
"This just puts it in writing that we are going to do something about it," Burchett said.
"I think that you'll start seeing more activity there and I am hoping that will truly help linking downtown to the waterfront," Trent added.
There is no timeline, and appraisals or bids at this time. Burchett said he would love to have the building under new ownership and redeveloped by the time his term is up in a couple years.