The future of downtown Knoxville could be below the surface | News
(WBIR - DOWNTOWN KNOXVILLE) As downtown Knoxville continues to grow in every direction, at least one developer believes the future of the city could actually be found in a part of its past.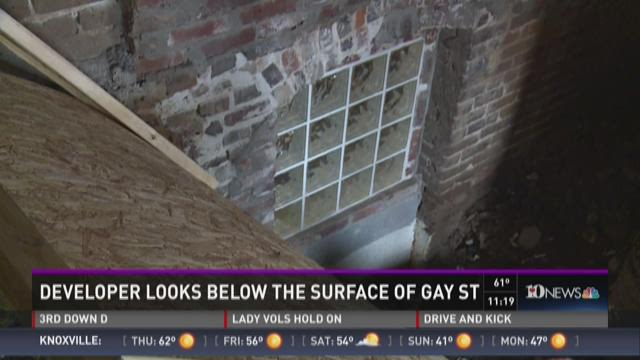 Almost a century ago, a hidden gem was buried by road construction. Gay Street was once hilly and had an especially steep slope down the Southern rail yards. It was a busy downtown attraction and by the early 20th century, a cluster of fairly tall buildings going down the hill on both sides of the street were built, according to historian Jack Neely.
"This was a very lively area from everything to saloons and shops. A lot of things that appealed to people getting off the train." Neely said.
However, the slope caused numerous problems for both cars and people coming from the train station. In 1919, the city built the Gay Street Viaduct (lifted roadway) over the rail yards and it changed the overall scene. That is when they raised the second-floor level of several businesses. The old first floors become unusually well-finished basements.
"Some buildings have three levels below Gay Street on some of these buildings. So a lot of these buildings are bigger than they look from the street level," Neely said, "They (original store owners) didn't really lose anything. They just re-ordered all the buildings. But they did cover up the first layer of the buildings and in some cases, the first couple of floors."
The lifted roadway has given way to a lot of myths over the years. Some say that underground is perfectly preserved with turn-of-the-century storefronts or that homeless people are living down there. So we decided to look into it.
What we found to be true, is much more fun in reality than our imagination.
Business owners along that block have access to these corridors through their basements, as well as several entrances on the West Jackson Avenue side of the street. And everyone uses this spot differently, whether turned into a garden or a showroom or even a place to getaway.
"I think the areas below Gay Street are more occupied now than they had been in a long time. For some people, one in particular, I know one who likes to smoke cigarettes in his workplace and he can do that. He has his own private office and doesn't have to share with anyone else and it's kind of a smoker's refuge," Neely said.
The mystery of underground Knoxville may not have been uncovered if it wasn't for developer David Dewhirst whose vision changed the 100 block of Gay Street. Dewhirst was an engineer, but when he came to Knoxville, he jumped on an opportunity he couldn't pass up.
"I literally drove off the interstate to Gay Street . I saw a for sale sign on the building and said that is where I want to be. It was pretty blighted section of town at that time, but it had enormous potential," Dewhirst recalled.
Dewhirst said he started off buying one building, then two, then three until he established Dewhirst Properties. It didn't take long for this developer to stumble upon a piece of Knoxville history within his buildings.
"The very first building I bought when I was coming here in the 90's had this underground portion out in front of it that I didn't even know about until a couple months after I bought the building. I wondered where that door in the basement went and it turned out that basement was originally the first floor of the building."
Dewhirst seems to have a plan to preserve and develop almost every aspect of the area. Dewhirst said the Jackson Avenue project is the only thing holding development back from happening.
"That will sort of complete and fill in subterranean passageways and make it commercially viable. Today, it's still waiting on those ramps to come down and get rebuilt. Those spaces will form some really neat underground urban spaces that you don't find in the suburbs and truly don't find hardly anywhere." Dewhirst shared, "They (people who live on the block) walk out on grade to the back into this pretty amazing urban forest that was left over from Civil War times and it's kind of best of both worlds. Gay Street on top and urban forest out back."
It is a type of development he believes is going on anywhere in the city, and with this history, really couldn't.
"I think the beauty about the urban living is that everything fits together," Dewhirst said, "Residential life, retail, restaurants, clubs, jazz, all kinds of music, commercial interesting office space...Everything flows together and can be on top of each other, beneath each other, within each other."