Lawmakers call for UT Chancellor to resign after holiday post | News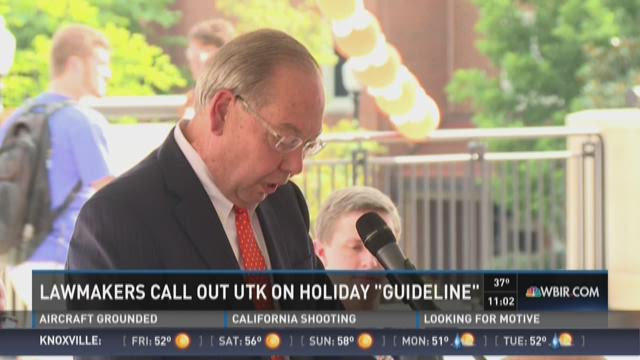 (WBIR - UT CAMPUS) An online post about holiday party suggestions has the University of Tennessee's Office for Diversity and Inclusion under fire once again. And at least two state lawmakers now want the university's chancellor to resign. 
The UT post at the center of the discussion, titled 'Best Practices for Inclusive Holiday Celebrations in the Workplace,' stated that parties should celebrate workplace relationships with no emphasis on religion or culture. It encouraged people to "ensure your holiday party is not a Christmas party in disguise." 
LINK: UT Office for Diversity holiday celebration suggestions
Senate Education Committee Chairwoman Dolores Gresham, R-Somerville, and Senate Government Operations Committee Chairman Mike Bell, R-Riceville, called on Chancellor Jimmy Cheek to resign Thursday night. In an e-mail, they wrote that they "have no confidence in his ability to lead the state's flagship university." 
Gresham and Bell's call for Cheek's resignation comes after Republican Congressman John Duncan Jr. blasted UT's post about holiday party suggestions during an interview on Fox News.  
Duncan, a UT alum, called the post "ridiculous" and an "extremist directive." He added that he was saddened and very disappointed that his former school would do this.
"People all over the Country are sick and tired of all this political correctness... It is going to an extreme that the overwhelming majority of my constituents and the American people are opposed," Duncan said.
 
The UT Office of Diversity and Inclusion defended itself on twitter, saying that "You only need to walk around campus to see that we are not anti-Christmas. We are pro-inclusion."
Vice chancellor Rickey Hall told 10News the post has been online since summer and the group has had something similar up for the past several years. He stressed that it is just a list of suggestions. 
"This is ridiculous. People fall for it every year. Certain publications want to make an issue of this and people really fall for it," said Hall about the reaction to the guidelines. "I am not anti-Christmas, I am pro-inclusion."
The best practices list also advised against playing games with religious or cultural themes, such as Secret Santa or Dreidel. Instead, the office for diversity suggested referring to gift exchanges in a general way, "such as a practical joke gift exchange or secret gift exchange." 
Previous: Gender-neutral pronouns criticized by lawmakers, encouraged at UT
Earlier this year, the group also came under fire when it asked students to use gender-neutral pronouns. UT then clarified that the information was offered as a resource but there is no mandate or official policy to use gender-neutral pronouns.
Bell said this is like a cycle of unnecessary political correctness and it starts and should end with Chancellor Cheek's job.
"It's the same line they used with Gender neutral pronouns," said Senator Bell, "They said oh you don't really have to follow these. They are just put out as suggestions, but this is an official office of UT and this is an office funded by taxpayer dollars and to continue to put out foolishness like this is offensive to the vast majority of the taxpayers and citizens in the state of Tennessee."
Late Thursday night, the Office for Diversity and Inclusion added the following to its website: 
"Inclusive Holiday Celebration Clarification
Please note that the resource as stated in the first line is a not a policy – it is a list of suggestions for inclusive celebrations.
We recognize that our campus community is diverse and its members observe various religions and faiths.
Our campus has numerous holiday parties and celebrations and we do not monitor activities.
We honor Christmas as one of the celebrations of the season and the birth of Jesus and the corresponding Christmas observance is one of the Christian holidays on our cultural and religious holidays calendar.
The practices are an online resource for faculty and staff to review as a means of creating a more inclusive holiday environment within their departments and administrative units."