Lawmaker's bill would defund UT office; Faculty Senate preps for meeting in support of chancellor | News
Title (Max 100 Characters)
Lawmaker's bill would defund UT office; Faculty Senate preps for meeting in support of chancellor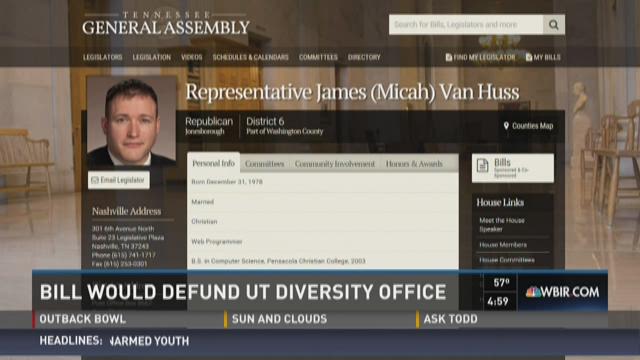 (WBIR - KNOXVILLE) As University of Tennessee faculty members prepared to meet in support of Chancellor Jimmy Cheek and Vice Chancellor Rickey Hall, a Johnson City lawmaker announced he is sponsoring legislation to defund UT's Office of Diversity.
Republican state Rep. Micah Van Huss's bill divert the funding from the office to pay for any local or state law enforcement agency that would like to put the motto "In God We Trust" on their vehicles.
Members of the executive council and past presidents of the UT Faculty Senate are to hold an emergency meeting Tuesday to draft a resolution designed to support Cheek and Hall.
The resolution, which will be sent to UT President Joe DiPietro, comes in the wake of a number of federal and state lawmakers calling for Cheek's resignation over the UT Office of Diversity and Inclusion's workplace holiday party guidelines.
On Sunday some 20 department heads and leaders in the College of Arts and Sciences signed and sent DiPietro a letter in support of the chancellor and vice chancellor. 
The letter states:
"Such an attack demonstrates the deep need for UT Knoxville's initiative to respect and increase diversity and inclusion. Inclusion in this case asserts the willingness to welcome all traditions, and not to prioritize one over the other. A policy of inclusion serves the University and the State of Tennessee by welcoming and recognizing the talents and contributions of students, faculty, and staff of all religions and races. The Best Practices noted above are also entirely consistent with the First Amendment of the US Constitution, which refuses the establishment of a state religion. As a government entity, we firmly believe it is the duty of the University of Tennessee to stand for a position that recognizes no single religious observance over any other. We applaud Chancellor Cheek as he stands for diversity and inclusion."

Read: 
Faculty Senate's statement/news release
Van Huss's office issued a statement Monday about his intent with the defunding bill.
"My office began working on drafts of this legislation when the Office of Diversity proposed using gender-neutral pronouns earlier this summer. We had been trying to draft something that would leave the office in place, but bring more oversight. However, after this latest action, it is clear that this taxpayer-funded department in no way reflects the values of Tennesseans.  First, it was Sex Week, then the Gender Neutral Pronouns, now these recommendations to ensure that "holiday" parties have nothing to do with Christmas.  What else has the Office of Diversity been doing with our tax dollars?" the statement reads.
Republican Congressman John Duncan Jr. of Knoxville blasted UT's post about holiday party suggestions during an interview on Fox News last week.
Duncan, a UT alum, called the post "ridiculous" and an "extremist directive." He added that he was saddened and very disappointed that his former school would do this.
Related: 
UT students, faculty petition in support of Chancellor Cheek, as officials call for his resignation
More: 
Lawmakers call for UT Chancellor to resign after holiday post
In a Facebook post Friday morning, Lt. Gov. Ron Ramsey, R-Blountville, said Tennessee's reputation is at stake.
"The General Assembly was assured that no 'practice or policy' would be published without Chancellor Cheek's approval," Ramsey wrote. "If this (holiday guidelines) post was approved by Chancellor Cheek, he should resign. If not, the entire staff of the Office for Diversity and Inclusion should be dismissed."
The UT Office of Diversity and Inclusion defended itself on Twitter, saying that "You only need to walk around campus to see that we are not anti-Christmas. We are pro-inclusion."