UT Faculty Senate supports diversity efforts on campus | News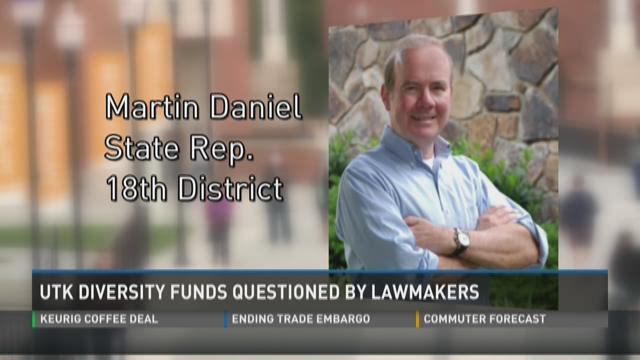 (WBIR - KNOXVILLE) The University of Tennessee Faculty Senate is united in its support for efforts to promote diversity on campus.
In a resolution approved at an emergency session on Tuesday, the members passed a resolution backing the University's Office for Diversity and Inclusion. It also encourages UT President Joe DiPietro to support efforts by Chancellor Jimmy Cheek to "promote improved diversity and inclusion which makes all people feel valued, empowered, and respected by their peers on the UTK campus." 
The body acted just hours after the university posted a revised set of holiday party guidelines on its Office for Diversity and Inclusion website.
State lawmakers are threatening to pull funding from the office after a national news interview criticized its Holiday Office Party Guidelines.
Original story
Members of the University of Tennessee Faculty Senate are preparing for an emergency session to tackle a recent controversy in the Diversity and Inclusion Office.
Last week, U.S. Rep. John J. Duncan Jr. blasted a post on UT's Diversity and Inclusion's page about "Holiday Office Party Guidelines" in a national news interview.
Some state lawmakers now want to pull funding from UT's Office of Diversity. Some lawmakers called for Chancellor Jimmy Cheek's resignation.
Related: 
Lawmaker's bill would defund UT office; Faculty Senate preps for meeting in support of chancellor
One of the main concerns state Rep. Martin Daniel, R-Knoxville, has is how the UT system is using its funding for diversity.
Leaders on the Knoxville campus said they see about $436,000 spent directly on the Diversity and Inclusion Office. The UT system as a whole spends close to $5.5 million every year toward diversity.
"While we respect freedom of speech, our constituents are telling us that they don't want their taxpayer and tuition money in this math," said Daniel.
He said this is a common message he is hearing from the people in his district. When he learned of Johnson City Republican state Rep. Micah Van Huss's proposed bill to pull funding from the diversity office at the UT systems, Martin warmed to the idea.
Related:
Lawmaker's bill would defund UT office; Faculty Senate preps for meeting in support of chancellor
"If we cut funding for diversity, if we curb the spending on diversity, let's establish a free speech center at the University of Tennessee to protect the rights of students to engage in the freedom of expression of ideas as they wish."
UTK Faculty Senate President Bruce MacLennan says yanking that funding would be a big mistake for faculty as well as for the students.
"That's also one quarter of 1 percent of the university's budget. In terms of the overall university, it's a very tiny fraction," said MacLennan.
The Faculty Senate called a special meeting for Tuesday to support Cheek. They'll consider two resolutions. One allows UT to push forward with their diversity efforts, and another asks the Board of Trustees to resolve issues internally rather than allow legislators to get involved.
"We should be allowed to do our job and use this process we've already got to resolve any disagreement about things like this," said MacLennan.
He said it would be more or less a recommendation to the Board of Trustees, but he expects support from the faculty and most students.
The Faculty Senate will meet 3:30 p.m. Tuesday in Room 132 at the College of Law. It is open to the public.
UT System President Joe DiPietro said his office is "disappointed" by the discussion of defunding.
In a statement to WBIR, DiPietro said: "We are disappointed by this and believe that advancing and supporting diversity and inclusion throughout the UT System is important because it is needed, is the right thing to do, supports providing the proper learning environment, and better prepares our students to enter the workforce. We hope to have an opportunity to discuss more about the value of diversity and inclusion efforts to the UT System and all of Tennessee higher education when the General Assembly returns in January."
Students are also joining the conversation.
UT's Student Government Association is holding an open forum 5:30 p.m. Tuesday. The Student Senate is having an emergency meeting to discuss a resolution of support for Vice Chancellor of Diversity and Inclusion Rickey Hall at 8 p.m.
From 9 a.m. to 3:30 p.m. students will peacefully gather to study for finals on the fifth floor of Andy Holt Tower to demonstrate support for the Office of Diversity and Inclusion.