Number of Knoxville, UT parking tickets drop dramatically | News
(WBIR-KNOXVILLE) It's not a great feeling to find a parking ticket on your windshield.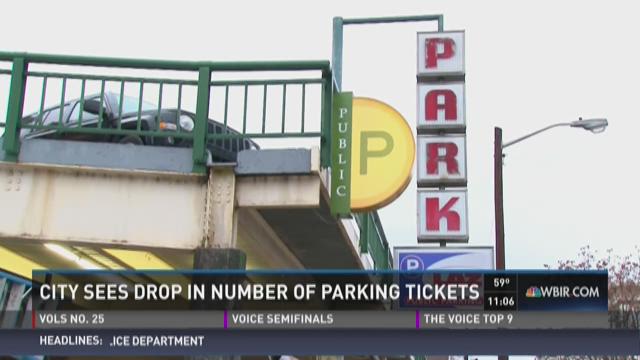 In an effort to save drivers this frustration, the city and UT worked to make parking easier downtown and on campus. Those efforts seem to be working.
"We had double the citations five or six years ago that we have now," Mark Hairr, Director of UT Parking and Transit, said. "That's in a way been surprising that we've been able to adjust parking to that effect."
University officials, along with UT police, have issued roughly 35,000 citations each year since that spike in 2010.
"More than 80% of our citations are for people that don't have any kind of permit or they're parked in the wrong area," Hairr said typically this would be a student parked in a staff area trying to get closer to their building."
The city of Knoxville is seeing the same downward trend.
In 2013, the city issued 31,179 parking tickets. In 2014, that number jumped to 36,219 tickets. But through October of this year, that city has given out only 18,468 citations.
City Traffic Engineer Jeff Branham credits the drop in tickets to better direction on the roads.
"When you initially do something, it gets a lot of attention," Branham said. "We've installed about $10 million worth of additional parking garage space and over a million and a half dollars worth of 'Wayfinding.'"
He said the city strategically placed fewer signs downtown to direct drivers more easily and to more appropriate spots.
"In the past, we had a wayfinding system in Knoxville, but it was an evolutionary product," Branham said. "We've since replace 400 signs. We've put in 250 aesthetically pleasing signs that attract attention."
He said this especially helps on Gay Street downtown, which is the most ticketed area.
"Primarily our short-term spaces are for folks doing business downtown, doing short trips," he said. "The parking garages are more set up for folks that are going to be here half a day or the whole day."
Both the university and city agree that the addition of parking garages downtown and on campus have made a huge difference in cutting down citations.
"Through our investments in the State Street Garage down here, we've expanded 250 spaces of off-street parking garage parking there," Branham said. "In the northwestern quadrant over off of Walnut, we've actually installed and partnered with a private developer to create over a thousand spaces there, so between the two, we've added almost 1,500 spaces to our off-street parking spaces to the folks that are actually seeking a longer term space."
"We'll have two new parking garages, one opening next summer that will in the center of campus where the old Stokely Athletic site was located," Hairr said. "We'll have 1,000 spaces for student and staff parking. That'll help support not only regular parking during the day, but those in the evening, too, for events."
Hairr said the second parking garage on UT's campus will open in 2017 at the Lake Avenue site on the west end of campus.
With even more space on the way, the city and UT expect ticket numbers to either hold steady, or potentially fall even further.
"There'll be a lot less impact on these other existing parking areas, so we think we'll have a smoother semester in terms of same types of parking lots and garages," Hairr said.
The university has also cut back on towing cars by booting them instead, which has helped collect outstanding debt and reduce stress for drivers.